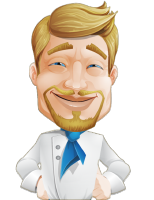 If you want to start working in food service, or if you already work in the food service and want to up your game, this Field of Study is for you.
The Restaurant Guest Service course was created by our own resident food service expert to prepare students for a nationally recognized certification from the American Hotel and Lodging Education Institute (AHLEI) as a Certified Restaurant Server as well as a Food Handlers Certification from the National Restaurant Association (NRA).
The Restaurant Guest Service course includes three online modules. At the end of the course, you may choose to take the optional certification exam and earn a credential to spice up your resume. Note that you will have to pay for the exam separately. The cost of the exam is not included in the cost of this course. If you live in the Florida panhandle, you can take the exam at one of our Career Campus labs. If you live elsewhere, instructions will be provided to take the exam online.
How to read this chart
* Recommended but not required
[C] also available as a class

Online Course

Onsite Class

Optional Certification (fees paid by student)

Download this course PDF
1: PATH PREREQUISITES
Computer Foundation*
Windows Navigation

(FREE) [C]

Keyboarding Skills

(20 WPM)

Computer Fundamentals

(FREE) [C]

Internet Fundamentals

(FREE) [C]
Northstar Computer Basics Certification
Northstar Internet Basics Certification
2: ONLINE CERTIFICATION PATHS
Food Safety
Food Handling & Hygiene (1 Module)

Florida SafeStaff Foodhandlers Permit
Restaurant Guest Service
Food Handling & Hygiene (Module 1)

Restaurant Guest Service: (Module 2)

Restaurant Guest Service: (Module 3)

NRA Restaurant Server Certification
3: ONSITE CERTIFICATION PATHS
Food Safety*
Food Handling & Hygiene (1 Module)

Food Handler (1 Class)

Florida SafeStaff Foodhandlers Permit
Restaurant Guest Service*
Food Handling & Hygiene (Module I)

Personal Appearance/Etiquette (Class 1)

Food & Beverage Terminology (Class 2)

Restaurant Guest Service (Module 2)

Sequence of Service (Class 3)

Host and Server Greeting (Class 4)

Restaurant Guest Service (Module 3)

Wine & Alcohol Presentation (Class 5)

Mock Guest Service (Class 6)

NRA Restaurant Server Certification